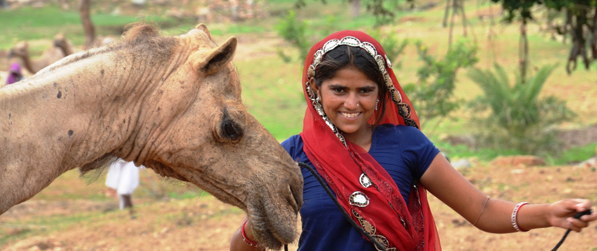 General
Lokhit Pashu Palak Sansthan means "welfare organization for livestock keepers" in Hindi.
LPPS is a non-profit organization registered under the Rajasthan Societies Act. It was set up in 1996 to support Raika camel pastoralists in an acute crisis.
Today its work continues to be inspired and shaped by the close association with this traditional pastoralist community, but its goals have widened to embrace people-centred livestock development and the sustainable management of biodiversity rich agro-ecosystems.
LPPS has its base in Sadri in Rajasthan, the drought-prone state in the west of India, where mobile livestock keeping has always been the mainstay of its rural people, especially its pastoralist societies.
A close relationship with animals is deeply embedded into Rajasthan's rural culture, and the state is famous throughout India as home of the one-humped camel and superior indigenous livestock breeds.
LPPS aims to support rural livelihoods through participatory research and community implementation of sustainable land use practices.
We act as a bridge between traditional and modern animal cultures and knowledge systems.
LPPS promotes sustainable livestock development building on Rajasthan's traditional culture & knowledge. It mediates between communities and other stakeholders, including government, researchers and the private sector. LPPS advocates for the rights and responsibilities of pastoralists & livestock keepers under national and international legal frameworks, including the Forest Rights Act and the UN Convention on Biological Diversity (CBD).
Watch this video to know more about LPPS
Watch this video to get insight into the situation of
livestock keepers and meet some of the
LPPS board members
LPPS Vision and mission
LPPS VISION:
Pastoralism thrives in Rajasthan, and worldwide, and is recognized by all for its economic, cultural and environmental importance.
LPPS MISSION:
To promote the recognition of Rajasthan's unique livestock culture & heritage nationally and internationally. LPPS aims to achieve this by means of implementing the livestock keeper's rights, economic empowerment, preservation of cultural heritage and protection of the environment.
Download the LPPS Strategic Planning Document Here
LPPS History
LPPS was founded in 1996 by Hanwant Singh Rathore to provide a support structure to the Raika when their camel herds were suffering from infectious diseases. A research project by Ilse Köhler-Rollefson had revealed significant economic losses due to Trypanosomiasis. Initially the activities focused on providing camel health care but gradually expanded to capacity-building, documentation of traditional knowledge, advocacy for grazing rights and a rights-based approach. Originally the organisation worked around Sadri in Rajasthan's Pali district, but since 2007 it is also active in the villages around Jaisalmer.
Partners and Networks
LPPS is the Indian partner organisation of LPP (League for Pastoral Peoples and Endogenous Livestock development), an international organisation working towards green and equitable livestock development based in Germany.
LPPS is a member of the LIFE Network for community-based conservation of animal genetic resources.
We are a core-member of the Rainfed Livestock Network that is administered by the Foundation for Ecological Security
LPPS is a member of Drynet, an international group of NGOs working towards implementing the UN Convention on Combating Desertification.
Supporters / Donors
Misereor, Germany
Ford Foundation
FAO, Rome
ETC Foundation, The Netherlands
Swiss Development Cooperation (through Drynet)
German Embassy, New-Delhi
Erbacher Stiftung, Germany
Audit Reports
Audit Report 2014

Audit Report 2015

Audit Report 2016