Rajasthan preparing comprehensive legislation to save the camel
Posted by : admin |
Comments:
Comments Off

on Rajasthan preparing comprehensive legislation to save the camel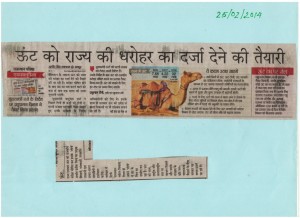 We are delighted to report that Rajastan's new Chief Minister, Shrimati Vasundhra Raje, is moving swiftly to save the camel and give it special heritage protection. An act is being prepared for the Legislative Assembly. It contains support for camel breeders who are all supposed to get registered, there are provisions for protecting grazing areas, even to some extent in the forest (we hope this refers to the Kumbhalgarh Protected Area). All government departments are to use the camel as their emblem, there will be support for marketing camel milk and other products.
However we are a bit concerned about the suggested ban on taking camels out of the state to protect them from slaughter. It means that farmers in adjoining states (Punjab and Haryana) may suffer hardship. So an exemption should be made. Also some thought needs to be devoted to what is going to happen to old and useless camels. It is also a fact that most camel breeders survive because of the demand for camels for meat.