New LPPS publication "The Camels of Kumbhalgarh"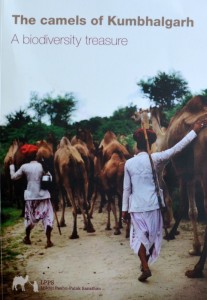 LPPS has compiled a new publication entitled "The Camels of Kumbhalgarh – A biodiversity treasure". Endorsed by  H.H. Maharajah Gaj Singhji of Jodhpur, this small volume makes the case for integration of the few remaining camel herds into the management of the planned Kumbhalgarh National Park – for the sake of biodiversity conservation, livelihoods and as an added attraction for tourists. Besides a description of the age-old camel grazing system, it features a list of the 36 most important camel forage plants, including photographs. The medicinal values of the tress and shrubs are also elaborated upon.
The printed version of "The Camels of Kumbhalgarh" will be released in a special event on 6th November, just prior to the Pushkar Camel Fair.